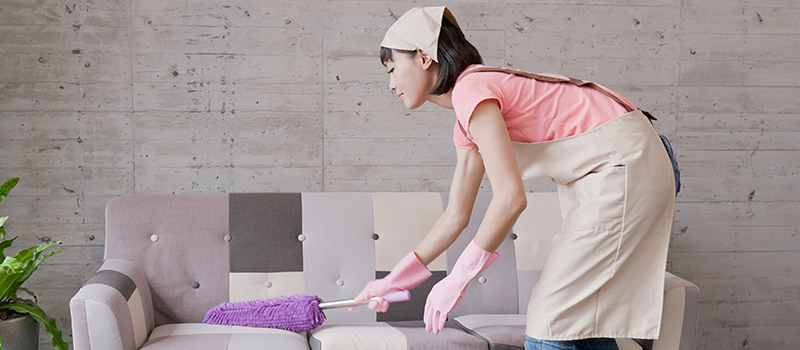 How to Renew Your Maid Insurance
It is familiar with families where both parents work, and it gets hard for them to take care of the house. Having a person who can help you with the households in this situation is a great relief. You don't necessarily have to work outside to have a helping hand. When it is the first time appointing a maid for your household, you will go to an agency for it.
However, agencies work with several people. They might appoint a maid for you based on your requirements. At the time of selecting you a maid, agencies do maid insurance. Every work must have a contract for it. A work contract prevents causing unnecessary hardships and provides you all the essential documents and information about the person working in your house.
We have seen that many people get such good maids that they don't want to leave. For example, your minimum contract for a maid service is of two years. When you see her work correctly and be a faithful person to you, two years will feel like a few days. However, with the wrong maid, 2years will feel like two decades. Well. They are not going to the opposing side.
If you are lucky enough to find a trustworthy, serious maid about their work, you will want them to be your household help even after the contract period. In that case, all you can do to keep the maid for more years is maid insurance renewal. You will receive a reminder for the end of the contract with the maid two months before the expiry date.
Importance of maid insurance
Honestly, maid insurance is not a mandatory part of hiring a maid. However, precaution is better than cure. Before we do an in-depth discussion on maid insurance, it will be better to understand what comes inside the insurance policy. Well. Maid insurance covers the best critical illness insurance and personal accident insurance too.
Signing a bond for a work contract requires several documents, which means verified information about the person. It will save you from any fraudulent cases and assure you of your loved ones as well. Now talking about their part, an outsider who works hard to keep your house neat and clean maintains hygiene for your health is a human being. If something wrong happens to them, they can get help from the maid insurance.
Steps to renew your maid insurance
Insurance renewal might seem to be a critical process, but you can do it yourself if you correctly understand each step. You can visit the agency from where you appointed the maid and ask them for the renewal. However, renewing insurance from the agency will cost you heavy renewal fees. You can neglect to spend so much if you try to renew it yourself.
We understand your hesitation and tension to proceed with such a legal step. But it is not as hard as you think. All you need is a better understanding and confidence. Moreover, we can't see you feel stressed, so we made the steps more comfortable to understand and follow. Here is what you can do to renew maid insurance.
Since it is a lawful procedure, it has several regulations regarding the insurance policy. Before you proceed with the renewal, look for the latest rules. If your maid is from some other region, it will help if you look for the regulations and laws of that particular origin. It will also require your maid's passport.
Ensure your maid's passport has a validity of more than six months; otherwise, you must renew their passport before continuing their work permit. Various countries have their unique requirements for such bonds. For example, it requires 6000 dollars as a government security bond for Indonesian maids.
Once you check the latest laws and regulations for your and your maid's country, you can take the first step towards the renewal. The first step of the process is to purchase an insurer of the value suitable enough for your requirements. You may be thinking that the insurer will cost heavy on your pocket, but it will not. There are several affordable sites from where you can shop for the best insurer in your budget.
When you purchase the insurer, make sure it covers all your requirements and follows all the Ministry of manpower or MOM regulations. For example, the insurance must cover the factor of protection for any abuse to your family, especially kids and older people from the maid. There are more benefits such as critical illness, letters of guarantee, protecting your house from any theft by the maid, any unfortunate event like fire, etc.
Once you complete shopping for the insurer, you can proceed to the next step, which is logging on to the Website of the Ministry of manpower. In this step, you will require some essential documents of your maid to ensure the renewal of their work permit. A scanned copy of your maid's passport. The passport must have a validity of more than six months. Apart from the particular personal page of your maid's visa, you will require medical and private accident insurance, the security bond imposed from the Ministry of manpower, and essential details for safe delivery.
After proceeding with all the vital documents, next comes the payment stage. You can make the payment through your debit, credit, or visa card. It might take a few moments for processing. After it says confirm the amount, you will see confirmation of work permit renewal. You can now print the confirmation page to use it as a temporary permit until you get the card.
You can select the latter option, but you need to return the previous card following the instructions. You will find the return instructions in the notification letter.
Conclusion
It takes a lot of good luck to find a maid you can trust with your precious things. If you find one, try not to lose them after the expiration of their work permit. It is as comfortable as filling up an exam form.
About Author