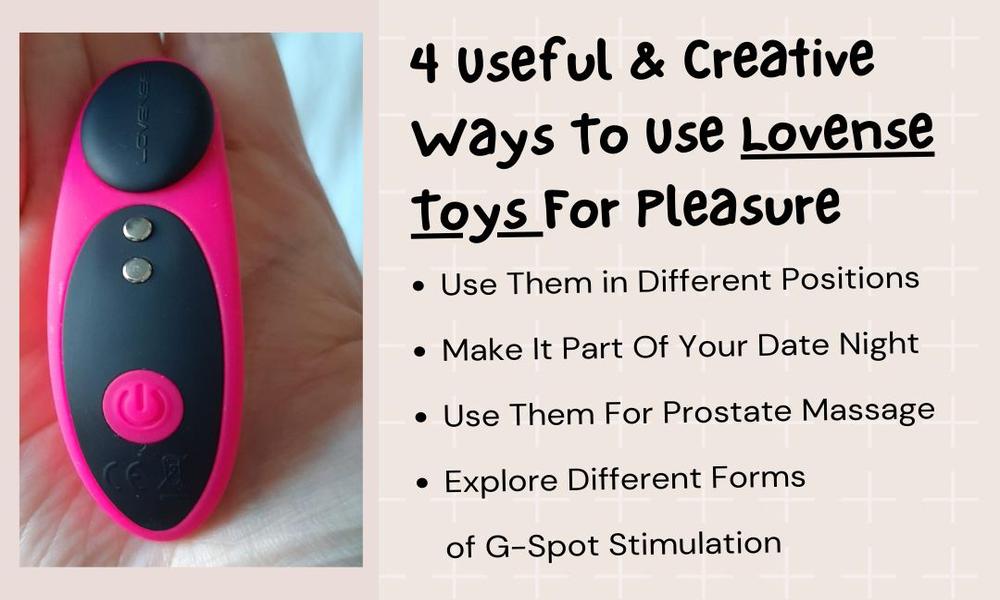 4 Useful & Creative Ways To Use Lovense Toys For Pleasure
In a society where sexual health and pleasure are often stigmatised, sex toys provide an opportunity to explore and enhance intimate relationships and boost sexual well-being. With their many benefits, sex toys (from an anal plug to a dildo) can help couples become more intimate, add pleasure to solo play, and even help those with physical disabilities enjoy sexual experiences.
Lovense toys offer abundant creative possibilities for those who seek genuine pleasure. These technologically advanced toys can provide a limitless creative experience to experiment and explore (either with a partner or flying solo). So, if you're looking for ways to spice up your love life, here are creative ways to use Lovense toys.
Use Them in Different Positions
Lovense toys are perfect for use in different positions. For example, you can use the Lovense Lush during foreplay and intercourse for maximum pleasure. Some Lovense sex toys can be for clitoral stimulation and G-spot massage. Plus, you can use whatever Lovense sex toys you have during intercourse. The Hush and Lush toys can be ideal for G-spot stimulation and prostate massage.
Make It Part of Your Date Night
Many couples use sex toys to spice up their love life, and Lovense toys are perfect for couples to use together. Instead of having sex the traditional way, try using a Lovense toy. For example, you can try a Lovense Pearl Diver for a charming clit sucker. Such toys are perfect for couples to use together, which makes your date night more memorable and exciting. Not to mention that using one can also help enhance the intimacy between you and your partner without any barriers!
Use Them For Prostate Massage
The Lovense Edge toys are an example of a perfect device for prostate massage. You can use the toy for anal play and P-spot pleasure. Plus, you can use the toy during intercourse, foreplay or even solo play. The toy has a dual motor and can be ideal for beginner to advanced users. Additionally, the toy has a limitless number of vibration patterns and adjustable vibration levels and can sync to the music.
Explore Different Forms of G-Spot Stimulation
Whether it's for G-spot massage with a partner or foreplay stimulation, there are just countless ways you can try different methods to achieve a pleasurable experience and organism with different Lovense toys! Be it alone or with your partner, you can browse through various available Lovense products to ensure you have the best experience and a fun time!
If you are looking for genuine Lovense toys online, visit Horny.sg!
About Author