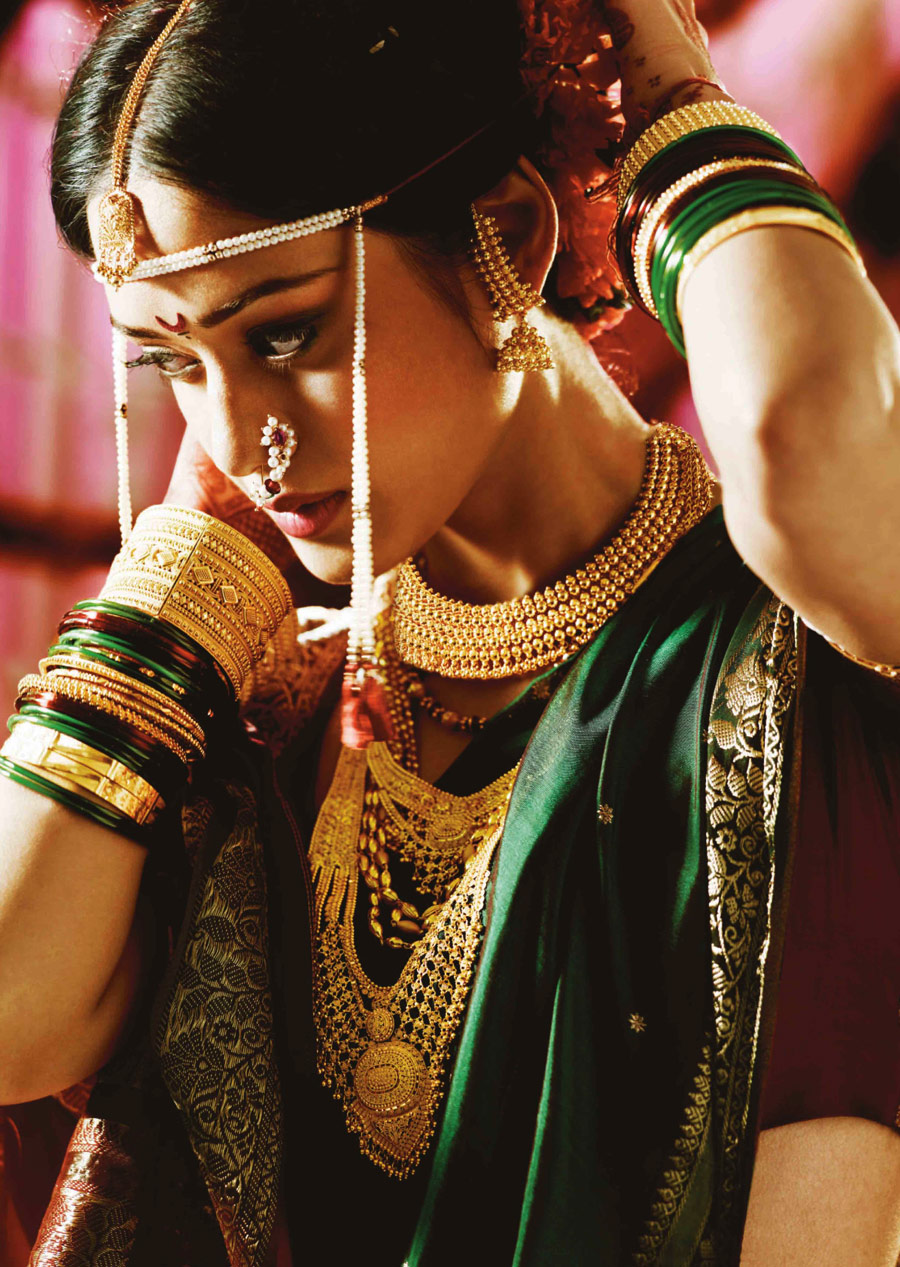 Maharashtrian Jewellery: Different Types of Gold Necklace Sets
Maharashtrian jewellery designs are trending these days. People of different cultures are also adopting these jewellery designs and love to wear them on various special occasions. Many people throw theme wedding parties and wear Maharashtrian Jewellery along with the attire to follow the theme.
The Maharashtrian jewellery designs have various types of necklaces sets and those who are not aware of them are in the right place. In this article, we have shared all the information about gold necklace sets loved worn by Marathi ladies on their special occasions.
Thushi:

It is the most famous pearl-beaded choker-style necklace set loved by all Marathi women. It is made of gold and enhances the beauty of the woman when worn with the Nauvari or Paithani saree, the traditional attire of Maharashtra worn by every woman on various special occasions. It is easy to wear as comes with an adjustable thread and can be adjusted as required. 
Mohan Mala:

It is a gold necklace set made of golden beads stringed in various layers from 2 to 8. 
Lakshmi Haar:

It is temple jewelry beautifully carved with coined-shaped pendants on the necklace. The coins are intricated with a carving of Lord Ganesha or Goddess Laxmi and this is the reason it is also known as temple jewelry.
Kolhapuri Saaj:

It is the most special piece of jewelry as special as the Mangalsutra worn by Marathi ladies. It is designed with golden beads along with leave shaped pendant that is 21 in number. It is given the number 21 as every pendant is very special with auspicious meaning. The first 10 pendants are defined as the 10 incarnations of Lord Vishnu, 8 pendants are for ashtmangal where asht is for 8 and mangal stands for something auspicious, ruby and emerald stones are embedded in 2 pendants and the last pendant is the taviz. 
Tikada:

It is the traditional choker-styled pearl set with a pendant in the middle that is added to make it look more attractive. It is also available with an adjustable thread that makes it easy to wear. 
Rani Haar:

The most precious long pearl necklace set which is worn by every Marathi bride on her wedding day. It is made of a string of pearls with a pendant in the middle made of gold. It looks beautiful on every bride when worn with the traditional attire Paithani Saree which makes her look like a princess. hence, the name was given Rani Haar to it.
Belpan:

It is another most beautiful piece of a necklace set whose design is inspired by "Bel" the leaves that are devoted to Lord Shiva. It is the most important piece of jewelry made of gold and worn by every Maharashtrian woman on special occasions like festivals, pooja, weddings, etc. 
Tanmani:

It is a uniquely designed choker-style necklace set made of gold with a pendant studded with beautiful-looking stones. The necklace is made of three layers of pearl strings with an attractive and heavy-looking pendant in the middle. 
About Author