A 5-Step Guide To Processing A Human Remains Repatriation Of A Loved One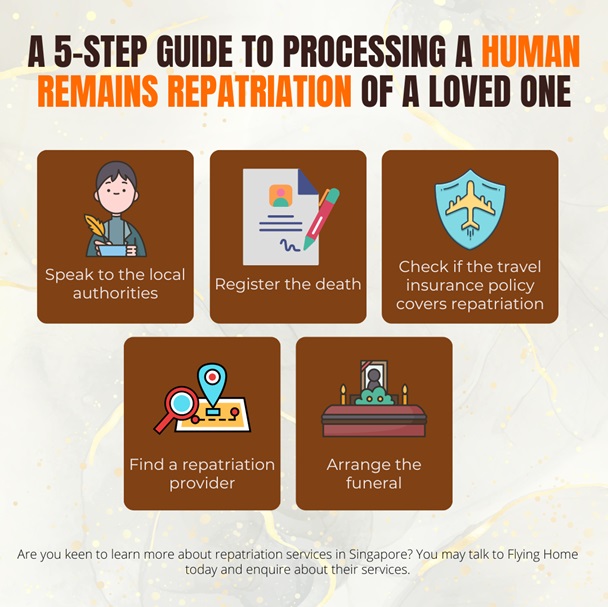 Death is one of the inevitable incidents that can happen. Processing a funeral is exhausting, especially while dealing with grieving. However, things can get more challenging if your loved one dies overseas. How do you start processing a human remains repatriation? Bringing them home for the funeral can be a drastic and draining procedure. Where do you begin? Is there any way you can get the body of your beloved?
Managing the repatriation of remains can be a nightmare, especially for first-timers. To guide you on the process, here's how to repatriate a body of a loved one.
WHAT TO DO IF YOUR LOVED ONE PASSES AWAY ABROAD
1. SPEAK TO THE LOCAL AUTHORITIES
Before getting repatriation services in Singapore or preparing the preplanning arrangements, start communicating and asking for help from the local authorities. It is crucial to contact the embassy, high commission, or consulate in the country your loved one has died or where the death occurred.
2. REGISTER THE DEATH
When processing human remains repatriation, it is also critical to work on the death registration in the country the death happened. The process can vary depending on the laws of each state or country. When registering a death of a loved one, below are some crucial information required about the person who died.
FULL NAME
DATE OF BIRTH
PASSPORT NUMBER
THE ORIGIN WHERE THE PASSPORT WAS ISSUED
THE DATE THE PASSPORT WAS ISSUED
3.CHECK IF THE TRAVEL INSURANCE POLICY COVERS REPATRIATION
Human remains repatriation costs can vary depending on the nearness of where the death happened. Before getting repatriation services in Singapore, it is a good idea to check for insurance policies, whether from the repatriation provider or travel company representative, if the incident happened during a tour.
4. FIND A REPATRIATION PROVIDER
To finalise the repatriation services in Singapore, you will need to find a provider who will gather some critical papers to commence the repatriation. But generally, the documents for the repatriation of remains are as follows:
Local death certificate
Passport of the dead person
A granted access to take the body out of the country
Embalming certificate or cremation certificate
Freedom from infection certificate
Consulate documentation
Customs import and export documentation
5. ARRANGE THE FUNERAL
Once the human remains repatriation is complete, you can look for a funeral director to arrange the funeral ceremony in their home.
The entire procedure can be exhausting and challenging, especially for the grieving family. It is best to get repatriation services in Singapore to help save time, energy, hassle, and headache.
Are you keen to learn more about repatriation services in Singapore? You may talk to Flying Home today and enquire about their services.
About Author